Drop A Grand
We young pups could stand to learn a thing or two from Mike McCoy.
McCoy is best known as the man behind
Cher UK
, a band that has been around in various arrangements and cities along the way. Originating in KC in 1989 with Mark Reynolds and Jeff Nichols, Cher UK has undergone several incarnations throughout the years, with McCoy as the only constant—even geographically. In addition, he's had his hand in other projects here and in his current home of Austin, where he moved in 1998. Among them, The Service Industry, The American People, Wood Roses, Black Rabbits, and Yard Pups.
Throughout his years in his different projects, he has accumulated a smorgasbord of talented players in Kansas City straight down the I-35 corridor to Austin. In fact, he started the
North vs. South Music Festival
with
Baby Grant Johnson
in 2003, which brought bands from KC, Austin, Minneapolis, and surrounding areas to collectively display their musical abilities in one place—for the common goal of appreciating of music.
"I am a very fortunate man to have known all these players all these years. The list is long and the people on that list know who they are and why they play music in the first place," says McCoy. This Friday, he'll join some of these longtime KC musicians at
Davey's Uptown
to play newer tunes and old favorites from the Cher UK catalog. The lineup will include Lyle Wells on guitar,
Bernie Dugan
on drums, and
Jason Beers
on bass.
Cher UK reunited at
Middle of the Map Fest
2012 and has played a small handful of shows since. Friday's show will be a special one: McCoy makes his way to the half-century mark.
His thoughts on the big shindig?
"Sometimes you have to go ahead and live in the self enough to fabricate good times with people you love from your history, musically or otherwise. It is indulgent, but it's also not a fucking sport." To McCoy, performing his songs with friends in front of loved ones and supportive fans has become an integral part of his being. "Though I have intentionally made my life to be a slave to this idea, it also has given me more fulfillment than any one man has a right to. I am a spoiled white American male who depends on his friends' happiness in order to see balance in the world."
After this symbolic coming of age, McCoy will be working on his first solo record at Sparta Sound in Minnesota with friend Rich Mattson. The studio is in Mattson's house, a renovated small-town church. "It will be a completely different recording for me, but the lyrical content will be my best so far, appropriately," remarks McCoy.
The songwriter looks forward to heading back to see old friends. And being a veteran of both the KC and Austin music scenes has given McCoy some perspective on why he's moved on and what he's left behind.
"For me, [Austin] is the perfect place to write songs as we get further and further from the 'good old days' here. My favorite thing about Austin is its ability to complain about itself and then sit smugly in its own greatness and ballsy creativity," quips McCoy. "But I need the aural consideration of a town so helplessly out of control and self-indulgent. Austin is the place for that. I need the confusion, I guess."
But seeing the music community in KC grow over the years has also provided him with valuable insight. "The KC scene is unique and more well-rounded than most scenes. It's insulated at times, but the growth there is surprisingly not marked with the stain of American groupthink that is so common in ultra-fashionable cities and overhyped festival towns."
Most importantly, there seem to be no doubts in McCoy's mind that he's made some incredible musical moments because of the passion he's put forth and has gained from those around him. "It's time with good friends recreating songs that left some sort of mark on my life due to the people who have been kind enough to let me onstage with them, the people who came/come to the shows, the people who have sold the product, the owners of the clubs, the talent buyers in any given region, the production people, bartenders, door staff, sound engineers. Hell, it's just people."
Help toast McCoy as he celebrates his 50th on Friday, October 4 at Davey's Uptown. Get there early for a song-filled evening: the show kicks off at 8 pm with Baby Grant Johnson, followed by Dolls on Fire, John Velghe and The Prodigal Sons, Drop A Grand, The Dead Girls, Cher UK, and Ernie Locke with Missouri Bultaco Association. Facebook event page.
(Pictured above: Isaiah Radke of Radkey)
recordBar was home to a diverse showcase of local musicians on Saturday night, handpicked by Sonic Spectrum host Robert Moore. Drop A Grand, The Quivers, Radkey, and Soft Reeds played to an interested and expectant crowd.
The night started out with Drop a Grand. This was my first experience of them, and indeed an experience they are. Electronically playful costumed noise punk like AC/DC, the Sex Pistols, and Elton John getting lost in the keyboard room at Guitar Center. The songs were short, loud, and brash, often sounding like the musical version of a stoned teenager fumbling at the top button of his high school sweetheart's skinny jeans. The wolf playing bass (Steven Tulipana) brought the technological side, often howling into the microphone through various processed effects. Overall, fun and interesting.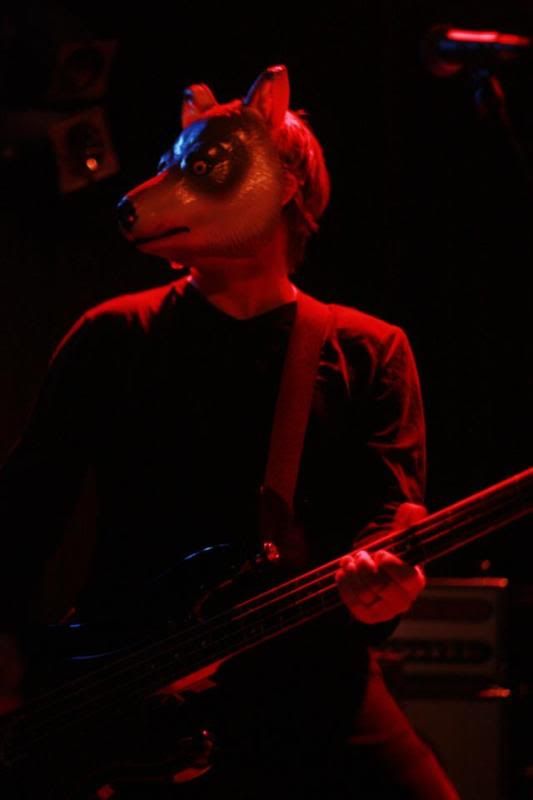 Kansas City's Motown napalm darlings, The Quivers followed Drop A Grand. A little bit country, a little bit rock 'n' roll, a little bit Carrie Fisher with a flamethrower, their groovy tunes really got Ricardo dancing. Their set was quick, no nonsense, and a hell of a lot of fun. The well-dressed band jumped from song to song, never letting the sweaty crowd get too much of a break from the groovy vintage tunes. The set really picked up steam in the second half when vocalist Terra Peal let her voice play in the sandbox a little. Her vocals carry a combination of pure power and snarl that contrasts wonderfully with the organ and guitars beneath.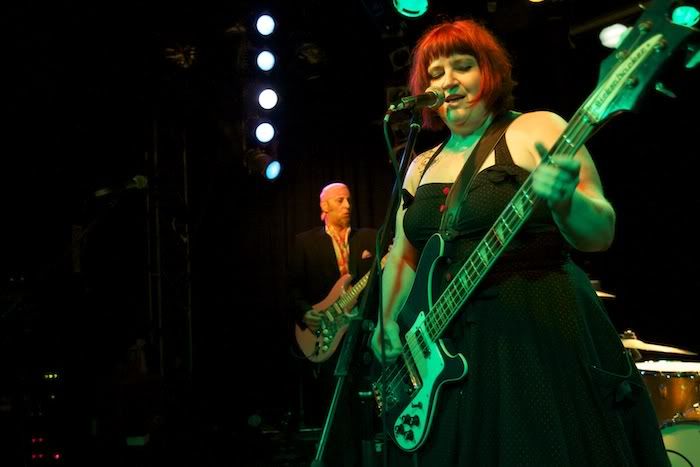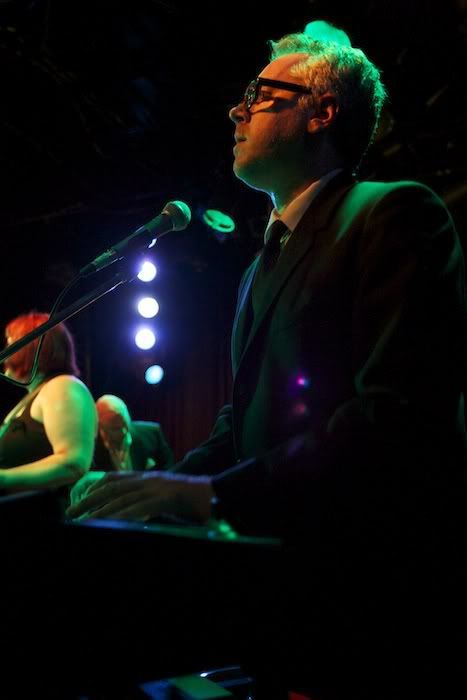 Next up were the young men from St Joseph, Radkey. Sporting clean cheeks, dreadlocks, and one fantastically groomed Billy Dee Williams moustache, they brought a simplistic and raw energy to the night. Their straightforward rock n roll borders on radio metal at times and is the perfect music to nervously bite your fingernails to. It comes across as a young man's Van Halen/Misfits mash up, minus the chainsaw guitar solos and the really, really short bodybuilder singer obviously compensating for something. They were tight, strong, and kept the crowd (who mostly seemed to be there for them) cheering for more.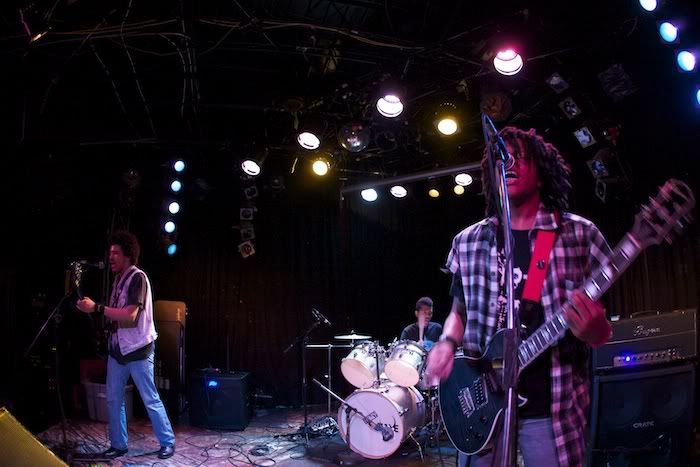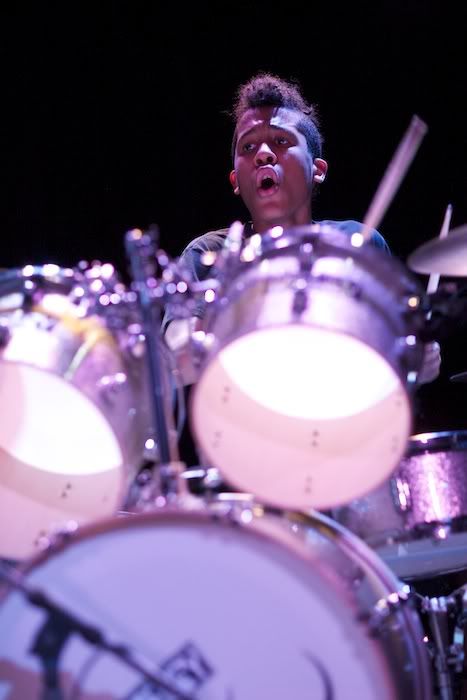 Finishing out the evening were the hipster prophets themselves, Soft Reeds. Easily the most seasoned and talkative group of the night, Soft Reeds brought the show home with their energetic blend of dance rock. Despite their best effort to emulate The Killers or Franz Ferdinand, the Soft Reeds pop more when they allow themselves wade into the Talking Heads side of the pool. That said, they showed a true mastery over the cliffhanger art of dynamically building songs up to almost the brink of bursting only to stop them suddenly. It is certainly good music to not think too hard about and just sway side to side.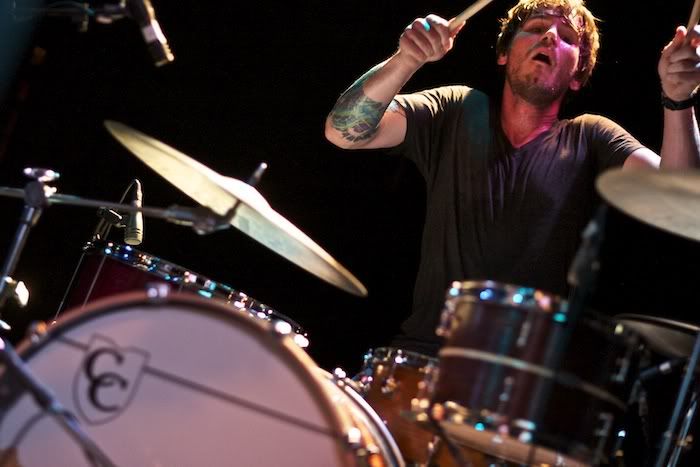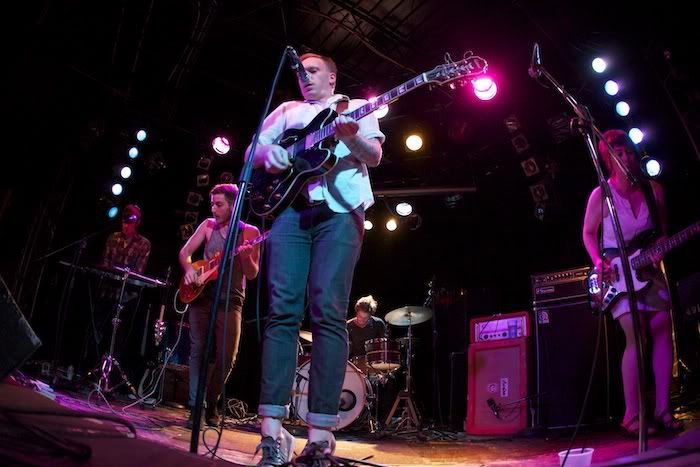 --Zach Hodson
Zach is a lifetime Kansas City resident who plays multiple instruments and sings in Dolls on Fire, as well as contributing to many other Kansas City music, art, and comedy projects. He is very fond of edamame, treats his cat Wiley better than he treats himself, and doesn't want to see pictures of your newborn child (seriously, it looks like a potato).
Photos © Todd Zimmer, 2012. Please do not use without permission.