Davey's Uptown
(pictured above: The Brannock Device)
There's no rhyme or reason for what took place.
No explanation that the normal human mind can calculate.
But it takes those elite few who bring sounds and experiences into our being. Doing the very things our brains only attempt to wrap themselves around.
There are those moments that you find yourself entranced by what you're hearing. Saturday night at Davey's Uptown was one of those nights.
The strangely odd but fitting combination of Steady States, The Brannock Device and The Ants was an evening of music for musicians. Three bands with decidedly different styles but conjoined by a passion for the placement of each beat or the merging of each intricate melody.
(pictured above: Steady States)
Steady States began the evening early with a heavy kick to the teeth. There's no question that this 4-piece group—former members of Mother Culture, Ste. Simone and Last Call (New York)—has a definitive hardcore sound with a quirky sensibility.
Compared to the bands that followed them, Steady States is relatively new to the scene, only playing in town for the past year. Nonetheless, this resulted in a 35-minute massacre of brute force, knowledge and style. Frontman Joel Shields gives off the mild-mannered vibe of Clark Kent, and explodes out of nowhere with an Ian McKaye sort of intent. At the surface, they have a raw noise post-punk sound. But as the name suggests, each screeching guitar note or yell continually creates another element as it expands and comes into itself. Steady States are unapologetically hardcore punk, with a minute but intelligent invasion of math rock.
Next up, The Brannock Device, a veteran Kansas City group. Watching Brannock can be like going to the symphony. You listen to the congruent convergence of several pieces and attempt to analyze each one in the tiniest of details, whether it be in the machine-like flow of Bernie Dugan's drumsticks cracking snare hits; Jason Beers' harmonic bass chords; Marco Pascolini's ungodly guitar arpeggios; or Elaine McMilian's theatrical vocal delivery.
The band's clear connection to one another is evident in each progression. While Brannock's experimental approach may not be pleasing to every musical palate, there's an absolute sense of the song composition and execution. It's a music lesson on how to bring a glowing warmth to each low tone and a melodic depth to each dissonant note. A performance by Brannock brings forth an inner study on how to play music and how to derive satisfaction from creating the exact part you want to create. One that fits together while simultaneously existing on its own plane.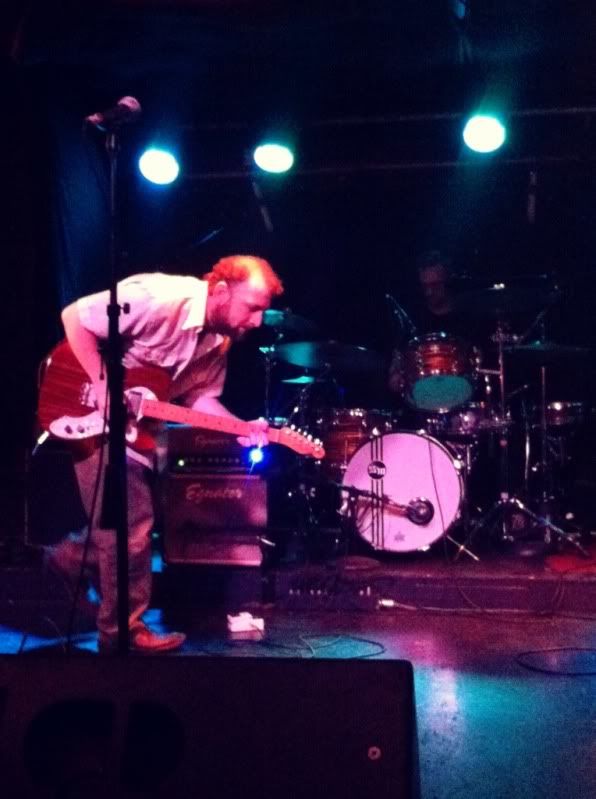 (pictured above: Chad Bryan and Sean McEniry of The Ants)
Rounding out the evening was The Ants from Lawrence, a band fully adept and bent on making music on its own terms. Much like the bands that preceded them, The Ants played their own peculiar brand of music and had a hell of a time doing so. The group has been around almost as long as The Brannock Device and has been crafting its own signature sound ever since.
Frontman and guitarist Chad Bryan knows how to captivate an audience simply by writing bizarre licks and entertaining lyrics. But he goes further by singing with a purely honest vocal style, injecting The Ants' overall personality. The music is progressive Americana, and never apologizes for being such. Like all of the other bands of the evening, The Ants played exactly what they wanted to, with vigor and expertise. Each song had a sway-inducing quality, often steered by a jangly guitar and just a touch of country swagger.
At the last song of the set, The Ants invited Marco Pascolini to the stage for a long jam session. From ripping punk notes to disjointed but oddly connected guitar riffs, Pascolini and Bryan performed a battle of wits and wizardry set off by an eccentric expression laid out on keyboard, bass and drums.
This final scene showed us exactly what we had seen that evening: a group of musicians coming together to showcase what they loved, and entertaining and educating its fans at the same time.
--Michelle Bacon