Album review: Cowboy Indian Bear - Vandeventer (EP)
I'm constantly amazed at the level of talent throughout our local scene. Many artists are putting out music that leaves me in awe and fills me with pride to say that I'm from this area. Album after album and show after show, bands in the KC/Lawrence area are proving that they have what it takes to capture audiences and play at the highest levels. That feeling of awe welled up within me once again as I had the privilege to listen to Cowboy Indian Bear's latest musical offering.
Titled

Vandeventer

, this EP is seven tracks of sonic goodness from this spectacular Lawrence band. The group's five members flex their creative muscle in each and every track. The tunes lace together like a well-made sampler with a signature stamp of excellent production, impeccable tone, powerful vocal performance, and captivating lyrics. Stretching themselves artistically, they rise to meet their own challenge, crossing genres from indie pop and rap to neo-soul.
The first two tracks, "Figure" and "Scatterbuzz," are a mixture of sounds reminiscent of Death Cab for Cutie meets Brand New. They hold a landscape of rhythmic loops, gorgeous synth lines, and great vocals from frontman C.J. Calhoun. That similar feel takes an ominous turn in the third track, "Ruffians." Dark synth hits with tension-building live drums set the stage for this introspective piece. I especially love the way they leverage the haunting vocals through a creative use of panning. The attention to detail demands you listen on amazing headphones to glean each piece of the arrangements.
The song "AC" turns the corner, featuring Katlyn Conroy's powerful voice. The track rightfully leans into the control, gorgeous tone and out-of-the-box uniqueness of her vocal performance. "Jacob" mixes rhythmic beds and the hook of a flute loop (that's right, I said flute loop) underneath rapper Marty Hillard dropping some fantastic lyrics.
After all that, you have what I think is the highlight of the EP, "Push," which seems to draw inspiration from artists such as Robert Glasper as the band lays down a smooth R&B vibe. Conroy's vocals pop out with distinction, highlighting her breathy tone and fast vibrato. That leads us to the bookend track, "Candy." Here the indie pop sound comes back in full effect. Creative sounds, melancholy vocals, and catchy melodies paint a picture of all that is great about this band.
As Vandeventer ended I found myself wanting more. I couldn't help but listen over and over again. No doubt this band will continue to raise the bar of the local scene and put this area on the map as it continues to expand its reach nationally. What's amazing is that each and every track will be free to download for your musical pleasure. Be ready to get your copy, fall in love, and then find a way to support Cowboy Indian Bear in its next huge steps.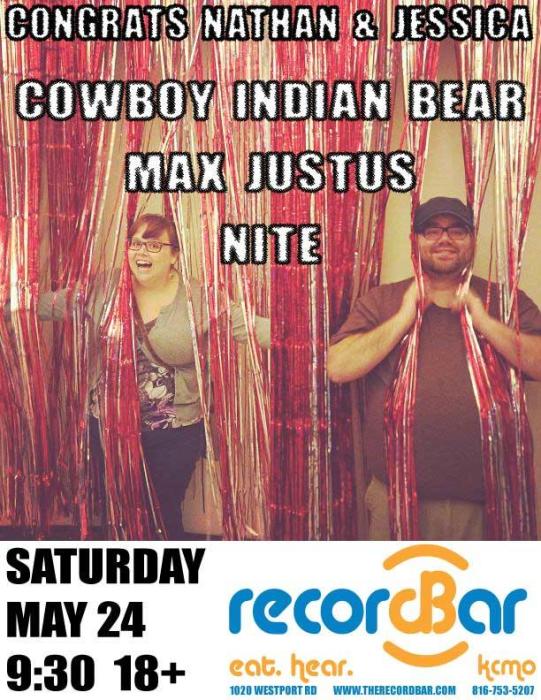 Vandeventer will be released on Tuesday, May 20 and you will be able to download it for FREE. Cowboy Indian Bear also released the video for "Ruffians" last week; see it below. Also, you can see them at recordBar next Saturday, May 24, with Max Justus and Nite.
--Miguel Caraballo
Miguel is a Puerto Rican who can't speak Spanish and frontman of Kansas City-based rock-soul band, Run With It. He believes the arts can change the world and loves meeting people who believe the same. If you want to contact him on your world changing ideas or to simply purchase him the Rosetta Stone Spanish Edition, email him at info@gottarunwithit.com.

Ruffians // Cowboy Indian Bear from Micki Hadley on Vimeo.